Hélène asked a question about the Bullymade boardgame "Die Flöte mit sechs Schlümpfen" and I thought I would tell the story about this game here. As you see on this poster from 1976 two smurf-games were made by Bully.  Articlenumbers 601/1011 and 602/1011.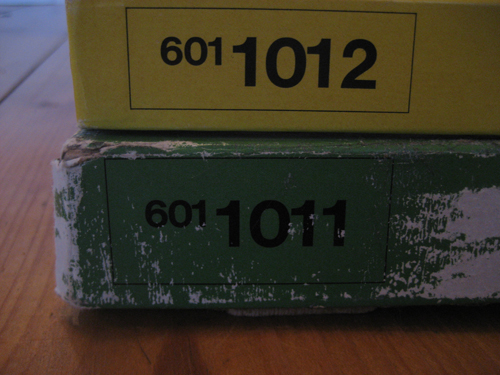 But the actual articlenumbers on the boxes are 601/1011 and 601/1012. So I guess the number on the second game was changed to 601/1012 instead of 602/1011?? 🙂

The reason for making this game was that the movie was about to be shown in Germany in 1976 as said on the poster.
That is also why Bully made the Pewitt- and Johann-molds in 1975. As said on the poster "Heros from the movie". 🙂
The mini-smurfs and the dice looked like this in this game Hélène. In 1976 the minismurfs only were used in the games.
Then the minismurfs had different sizes. The ones belonging to the second game "Die Flöte mit Sechs Schlümpfen" are slighty larger. To the right on the picture.
They also have a different marking. Smaller handetched Bully-marking.
All these 6 smurfs in this game have this smaller marking.
In 1977 Bully started selling the minismurf also as a loose item, you could buy as a loose figurine without the game. Articlenumber 1010/K. It seems then Bully sold the smaller sized minismurf. After 1978 the number was changed to 1010/90.
The loose minismurfs comes in many colours. For example these.
But when looking like this I think they should belong in a game??? But I could be wrong?? 🙂
Also the slightly larger minismurfs as shown before, most likely also only were sold in the boardgame.