I got a question in the email from Nick about articlenumber 40010 I have in the lists on my website. Unfortunatly I don´t know how that box looks like. As you see on this catalogue-picture it is a box containing 6 cottages( 2 of each roof-colour). Most likely it was never sold like this in the stores. It is just a articlenumber used so dealers could by 6 cottages at the same time and probably the dealers then unpacked them and sold them seperate in the toystores??? Have anyone seen such a box with 6 cottages?
Other interesting articlenumbers here is 40016 and 40017, used for a cottage together with a smurf or smurfette. In those cases a sticker with the smurfette was used and put on the box like you see on the smurfettes cottage box. 🙂 I love that box but have never seen it live. 🙁
The windmill- and large house playsets with articlenumbers 40009 ans 40019 were sold in special boxes and those can be seen in the boxhistory-pages on my website.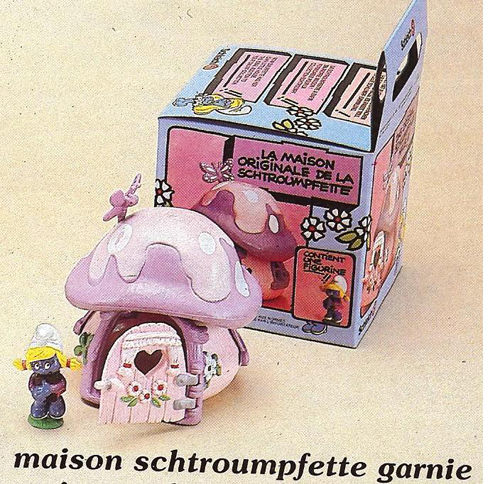 Here is a closeup on the smurfette sticker!!