Benny showed this lovely box in a thread at the Bluecavern-forum: http://forum.bluecavern.com/viewtopic.php?t=13470&start=60&postdays=0&postorder=asc&highlight . You need to be a member to see this thread.
The interesting thing in this case is not only the lovely display-box but also the information on it. As you see it says that you can switch the heads and that there are 6 heads( normal, papa, smurfette, brainy, angry and naughty) and 6 different bases( green, red, yellow, blue, black and purple).
This is how they looked like.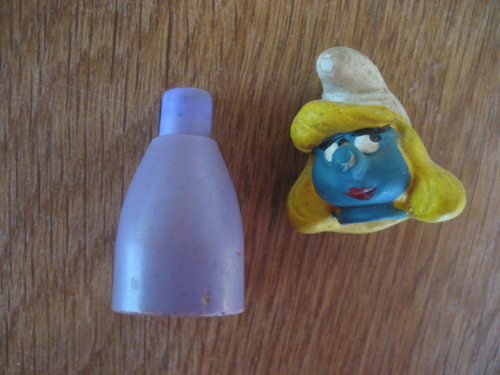 But as said on the box the heads are removable and therefore if you find a item like this with a red base it still can be genuine. That is part of the idea, to be able to play with them and switch heads. 🙂

A interesting thing is that these do not have any markings but they are Schleich-made items. You can see them in the 1979 Schleich-catalogue with articlenumber 54000.
The oldest actual picture I have seen of these are from 1978 when they were sold for the first time by National Benzole( leaflet). They were together with the gardenplayset and large house among the first "smurf-accessories" made by Schleich.
One of the most interesting things about this box for me and my chronological investigation is that it has the Schleichemblem printed on the box and also the old "bestell-nr" 592, which is from the articlenumbers used before Hermann Schneider changed these and started a new serie in 1978( the one we know today). This also tells us these smurf tops were made around 1977.
We have also seen this articlenumbers used on the gardenset box. This set was made in 1977 and have the number just before the smurftops, 591.
So far we have only seen these 2 "bestell"-numbers used before 1978 and therefore have a list with only 2 numbers!! 🙂
591 Garden playset, or actually only called playset at that time since only one existed.
592 Smurftops, 6 different heads and 6 different bases. Sold in displaybox with 60 pieces.
But as you see on this picture from the National Benzole leaflet in 1978 also the sharpeners-display probably could be found in the old box. The large house I am pretty sure is possible to find in the old box since it has the moldyear 1976 and was made before the gardenset. My guess is that the large house has articlenumber 590 or 589?? 🙂
If anyone has a box with these old numbers if would be great if you send me a confirmation so we then know it exist. Thanks!! 🙂
We also knows that Schleich in their book from last year writes that there is a Schleichcatalogue from 1973 which shows a smurfhouse( the older ones) and therefore we know that there actaully, 100% sure, is a possibility to get to know ALL the articlenumbers Schleich used on the smurfs made before 1978!!! So sooner or later we will find out! 🙂